Remember that scholarships for college are financial gifts and therefore do not need to be paid back.
When you begin your scholarship search it may seem a little overwhelming with so many out there. If you go into the process blindly with no game plan you may give up on the whole idea before you really even start. What follows is a general overview of how to conduct your scholarship hunt – it will help you during your search for money. Also, be sure to review the FinancialAidFinder list of scholarships, which contains hundreds of awards broken down by logical categories.
To begin, fill out a personal data form, a very thorough compilation of all of your cultural, ethnic, family, religious, academic, and extracurricular activities. The more specific and inclusive you are the better your chances are of finding more scholarships for which you qualify.
The object of the game is to win money, the more scholarships that are appropriate to apply for the greater your odds of getting that money. The trick is to uncover all the sources you are eligible to receive. Failing to match yourself to sources even in one category could mean missing out on free money, we don't want that! So as you discover funding sources that match your situation, start a list of those you want to apply to.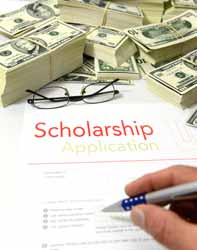 Don't waste your time on scholarships that have restrictive qualifications that you can't meet.
Another aspect you will want to consider in the planning phase is the timeline you begin your search. If you begin your search early then you will have plenty of time to ask the scholarship sponsors questions, find the right forms, etc. With enough preparation, research, and time to complete scholarship applications it will be obvious on paper that you are a strong candidate.
There are many sources and free scholarship directories that contain scholarship links and information. Be wary of scholarship scams especially services that require you to pay to see a list of available scholarships! Scholarship listings usually include four sections:
Award Overview
Eligibility Requirements
Application Information, and
Contact Information.
The Award Overview section details how much the award is for, whether it renewable and based on financial need, etc.
The Award Eligibility section is very important. Reading the eligibility requirements is a must! Don't waste your time on a scholarship you are not eligible for.
The Application Requirements section details a list of application materials you will be expected to submit in order to apply for a particular scholarship.
Please note that in many cases you will have to contact the sponsoring organization requesting application procedures prior to submitting an application.
In the Contact Information section you will typically find a web URL & email addresses, fax, phone, and physical addresses.
After you feel comfortable that you have uncovered all the college funding sources you intend to apply for, start to organize. Keep a separate folder for each scholarship you intend to apply for. Have a working calendar where you will be able to visibly see when things are due, interviews and follow up appointments.
No matter what you do, finding and applying for college tuition assistance is going to take some work, don't get discouraged be patient, follow through and you will find the money you need, good luck!
NEXT PAGE: Learn about Unusual Scholarships that are Available >>>